SoftSkills.app
Soft Skills Training for Software Development Teams
SoftSkills.app is a comprehensive soft skills self-assessment and self-improvement training program designed specifically for software development teams.
Assess - Team members take a 252 Question Softs Skills Knowledge Assessment that takes approximately 30 minutes to complete.
Score - Scores are presented across 14 Soft Skill Categories as a Soft Skills Scorecard.
Target - Based on their scores, a team member is recommended to start with either Basic, Intermediate, or Advanced levels of Soft Skills Coaching.
Listen - 126 Soft Skill Topics are broken up into 42 podcasts totaling 13 hours of audio coaching.
Repeat - Team members can retake assessment sections to improve their scores as they progress through the coaching podcasts.
The SoftSkills.app assessment has 252 questions distributed across 14 soft skill categories. Each question has a short statement that team members answer how strongly they agree or disagree with, a process that takes only a few seconds.
Communication - Respect, Honesty, Trust, Assertiveness, Debate, Consensus, Persuasion, Aggressiveness, and Manipulation.
Teamwork - Individuality, Mission, Alignment, Strengths, Weaknesses, Balance, Leadership, Ownership, and Obstacles.
Curiosity - Thinking, Intelligence, Openness, Research, Experimentation, Prototyping, Imagination, Innovation, and Invention.
Initiative - Ideas, Opportunity, Determination, Planning, Selling, Compromise, Inspiring, Motivating, and Enthusiasm.
Skill Level - Education, Knowledge, Experience, Dedication, Perseverance, Incrementalism, Expertise, Mastery, and Mentoring.
Attention to Detail - Patience, Listening, Questioning, Scenarios, Diagrams, Checklists, Internalization, Interpolation, and Perfection.
Business Focus - Capitalism, Profit, Growth Sales, Advertising, Licensing, Payroll, Funding, and Runway.
Deadline Focus - Estimates, Commitments, Contingency, Stakeholders, Expectations, Reporting, Negotiations, Contracts, and Consequences.
Estimate Accuracy - Precedent, Investigation, Decomposition, Scope, Dependencies, Competencies, Interruptions, Turnover, and Overtime.
Productivity - Distraction, Motivation, Discipline, Effectiveness, Efficiency, Completion, Flow, Previsualization, and Sleep.
Criticality - Fungibility, Uniqueness, Importance, Specialization, Exceptionalism, Recognition, Reputation, Politics, and Promotion.
Marketability - Jobs, Careers, Ambition, Demand, Economy, Trends, Recruiters, Networking, and Offers.
Adaptability - Comfort, Confidence, Courage, Absorption, Adjustments, Resiliency, Detachment, Formlessness, and Survival.
Risk Tolerance - Fear, Costs, Rewards, Success, Failure, Recovery, Gambling, Odds, and Recklessness.
Once they complete their assessment, team members review their Soft Skills Scorecard, which shows how well they scored across each of the 14 categories. The Scorecard functions as the media player for exploring and listening to the coaching podcasts. 13 hours of audio training is broken up across 42 podcasts, each divided into 3 topics. Each topic can be skipped to individually. The Scorecard is also the means for retaking individual assessment sections.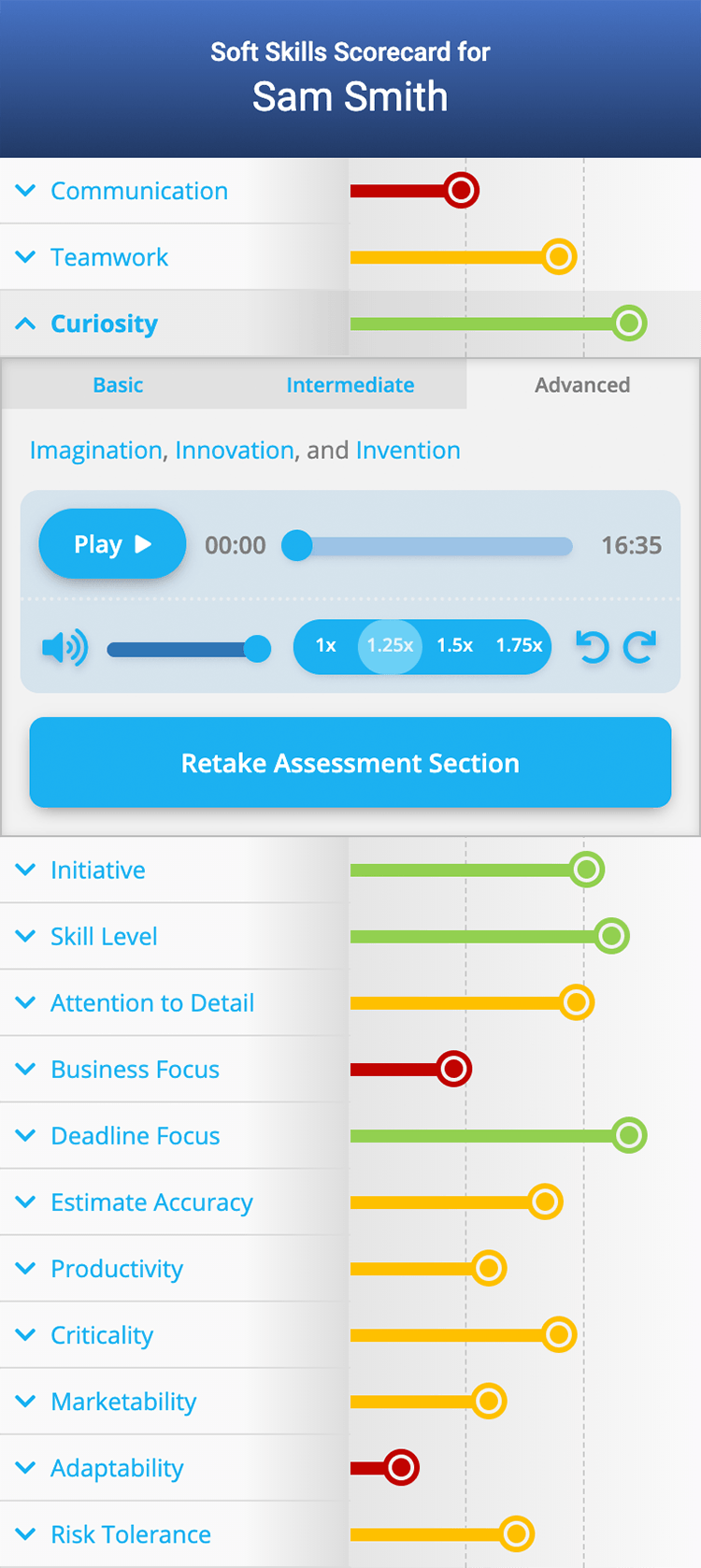 SoftSkills.app is well suited for organizations where both time and budget are limited. The training program is highly affordable at $49.95 per team member and does not require dedicated blocks of time to complete. This allows team members to take the program at their own pace as they have the time throughout the workweek.
The SoftSkills.app training program is used by software development teams in the United States, Canada, Israel, Romania, Ukraine, Poland, Germany, and the Netherlands. These include members from top technology companies, such as Google, Facebook, Microsoft, American Express, GitLab, and Disney.
Individuals purchasing for themselves:
Take the Soft Skills Assessment to test your knowledge of Soft Skills and generate your Soft Skills Scorecard.
Your Soft Skills Scorecard shows the results of the first 3 category sections unlocked and includes ~1 hour of free Soft Skills Coaching.
If you like the free Soft Skills Coaching Podcasts, you can choose to unlock the full version of your Soft Skills Scorecard for

$49.95

.
Managers purchasing for their team:
Purchase as many Gift Codes as you like for your organization for

$49.95

each.
Download the spreadsheet of Gift Codes, and distribute them among your software development teams.
Individuals taking the training do not have to pay to unlock the full version of their Soft Skills Scorecard when they use a gift code.